As we know green is the color of nature, which gives an amazing experience to the human eyes. Also, the green color is the symbol of harmony & balance which is always present in the center of all colors. The best thing about this color, they are very easily merged with the various color combinations. This green color always sounds like a clean environment around you & when it will mix up with its best combination, it creates a more attractive texture. Most of the best interior designers & service providers use different color combinations with green to make all wall shade more attractive. But for an inexperienced user, it will be difficult to choose the right color combination with green.
So if you are looking to renovate your home or office space with the attractive color of green, spend your two minutes reading this article. This complete information will help you to get a better understanding of the green color combination with different shades to give your home attractive & lovish looks.
List of the green color combination with different shades
Generally, it's very easy to pick any color with green because all the color looks good with green. Such as green with lime, yellow, white, or any other shades from the color palettes. In our expert guide find out the best charming & favorite color combinations with the green that are used to give an amazing look to your business space or home.
1. Green & Red
Using the right amount of red color combination with green works in a very good manner, especially when you are using this color combination in your living space. The color combination & texture of this green & red gives your home a more attractive & rich look. Also, the gradual combination attracts people more & more. Along with it, the trendy look of this amazing color combination is more eye-catchy for the human. The surprising outcome view with glamorous combination never ever feel you boring with this color schema. So when you think about the combination of red & green for interior design it's an amazing experience for you.
2. Green & Pink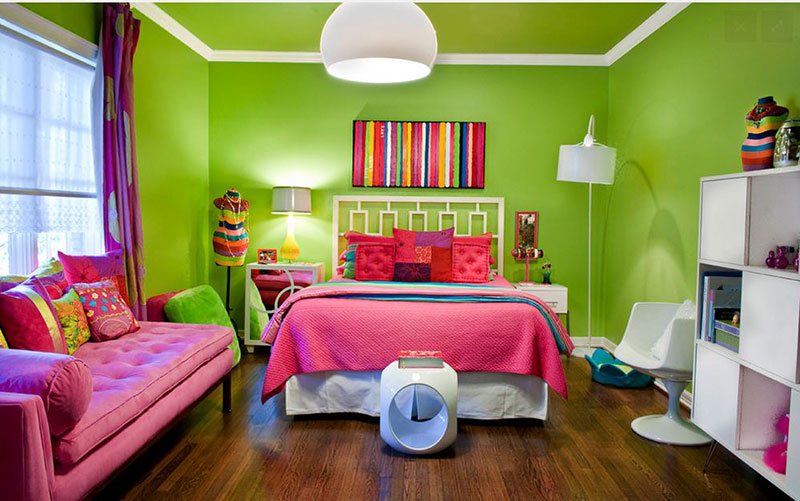 The color combination of pink & green we are not seeing frequently, but now this gains more popularity again after its few years surge. We can also know pink & green as complementary colors which are really sound like a dramatic pairing. Both colors sit completely opposite in the color wheel. That means the color scheme of green & pink is highly impactable.
At this time, most of the interior service providers used this color combination to paint cabinets & wardrobes. That amazing combination of green color gives a lavish look to your kitchen & other places. Also, if you want to make it more eye-catchy, you can use light sage green with the grounded deep pink color.
3. Green & White
If you are looking for a dashing & perfect color combination with green, white is the most suitable choice. White color is instantly able to add freshness & constraint when it will present with green color. But choosing the white color with green only works better when you select the right shade. The color schema of white is available in different shades & only the specific color of white looks better with green.
Based on the color rule the green & yellow-toned green such as lime, emerald green, jade green & others are the perfect matches with white. Other than them, you have also some more with the combination of white & green. Both are working to add extra freshness & great looks to your home & office spaces.
4. Green & Blue
Blue is a very common & perfect color combination with green that gives the perfect texture to your house walls. The right pairing & choosing the best combination of blue & green gives an unexpected & amazing look. The ideal way to use both these colors, you can divide your wall in fix ratio & use the shades of green & blue alternatively. You can also use this color schema in the ratio of 60%, 30% & 10%, where you can use a 60% scheme, 30% secondary, & the rest 10% you can use an accent. The accent color schema will help to reduce the extra contras & give the ultimate & perfect look. Also, that tone gives a rich feeling to your home or office space.
5. Green & Wood
Technically, the green & wood is not a color combination, but we can't ignore the wellness of green how it amazingly works with natural shades. That is also true that green is a nature-inspired color that can easily be fixed with natural textures such as wooden. So it's very easy to find out wood shade which looks lovely with green.
From the color pairing perspective, the green color is present in the middle of color shades that are the reason this color is highly neutrals & gives an extremely look with the natural color combination.
6. Green & Purple
According to the interior experts, the color combination of green with purple is the most charming & dashing combination. Both colors have wonderful foil with each other. This lovish combination of color gives an amazing & attractive look to your house walls. Along with applying this color to the wall, you can also use it with furniture. Also, if you want to add a few more attractive tones you can add neutral tones such as white or soft grey. The combination of this different color schema with green & purple gives an amazing look to your restroom, kitchen & living space.
7. Green & Grey
If you want to inject a hint of color with the green, the grey works perfectly. Grey works very fine with the various shades of green color. Also, the cool & attractive texture of this color combination makes the environment more eye-catchy. This light color combination increases the wall contras & gives an amazing look to your house walls. That grey color combination with green is mostly used in the bathroom, kitchen area & other places where you need more contras. The light shade of green & grey color combination not only gives the perfect texture but also the reflection of lights creates an amazing environment.
8. Green & Orange
For those who love a warmer tone in their house, the color combination of green & orange is the best match for you. The pairing of these colors combination creates a nice texture with fully positive environments. Mostly, the interior designer used this color combination in the living space due to its energetic feature. The orange color is very well known for its positive vibes which make the environment more healthy & attractive. There is also a number of color varieties available with orange that gives the opportunity to choose the perfect shade as well a combination of different shades.
9. Green & Yellow
The combination of green & yellow is more harmonious & best for your home interior. This color combination gives you a more fresh & attractive environment. Expert says the combination of green & yellow is identified as the color of nature which blooms the interior decoration at the next level. This combination instantly indicates nature such as leaves & flowers. This is completely the user's choice of how bold he wants to use this color combination for the home interior. Here you may choose this color combination with a few accents of yellow as well as green to decorate your living space. Also, the combination of green walls & yellow furniture decoration makes it more lovish.
10. Green & Brown
If you are doubtful about the combination of green & brown take a look at nature. Brown is one of the best combinations which gives an attractive look when it appears with green. But whenever you use this combination always go with the forest green to make it more lovish with brown. Many interior service providers choose this color combination in bedroom & living space to give them fresh & cool looks. The combination of dark & light walls in that place unexpectedly attracts anyone due to its fine look.
Summary
Almost every day we saw the green color around us, this color of nature is more relaxing & gives us fabulous looks. But when we think about using this color in our home or business area, the combination with green highly matter. To make the perfect design & give your wall, furniture & rooms an eye-catchy look, which you definitely need.
But how to select the perfect color combination with green is not an easy task if you are not much aware of the different color schema. Here in this article, we have shared the information about the best color combination with green. The above information will help you to decorate your home or office in the best manner.