Blue is the most loving color for many people & it is the most versatile color in the designer toolbox. Mostly this color is often chosen by men as a symbol of non-threatening. This color makes you calm, peaceful, secure, refreshing, and many more, depending on the shade you decide. This color can lower the pulse rate and body temperature of a person. It is most important to choose the right tone for your home & office interior. As well you can use different blue color combinations for designing your home or office.
At the time of decorating at home or office, it holds so many design schemes and settings. After a long run of research, our experts concluded that most people are more productive in blue rooms. When it comes to decorating your interior with blue, it is hard to select the exclusive & brilliant color combination. Commonly these color schemes are associated with relaxation & tranquility. The different shades range from ice blue to deep navy having great looks when painted on walls. And if you are stuck in deciding which colors you should go with blue, so we have covered everything for you. In this article, we have discussed the different blue color shades for your office & home interior design. Based on the best interior service providers, browse our color schemes to set up your creative interior.
List of the different pairs of colors that go with blue interiors?
Every combination is unique to itself and every color talks about its specialty. Just one look can change our mind and preferences to what to choose between 2 colors. Here is the list of the best color combination with blue.
1. Midnight Blue, Black, & White
The midnight blue is liberally mixed with black & white to put an eclectic spin on classic color pairing. It features a large section of blue DIY artwork that adds some drama & a simple scheme of hotel-style linens, white walls & black window trim. This color represents sophistication & elegance. Even it links with formal occasions & royalty, which conveys confidence, power & authority. According to color psychology, blue color associates trustworthiness & reliability & particularly linked with authority & intelligence. The midnight blue is timeless & versatile color. As an interior, it is treated as neutral color & matched with most shades.
2. Cobalt and Yellow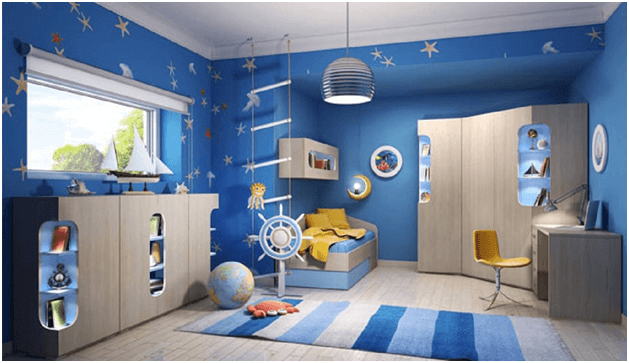 Yellow is one of the best colors that go with blue. Warm yellow with blue scheme makes your house looks more vivacious. This is a classic color combination that go-to-pairing feels fresh. This rich yellow color warms up the expanses of white in the dining area. Even the blue with yellow gives brightness to a room without going overboard.
3. Slate Blue and Rust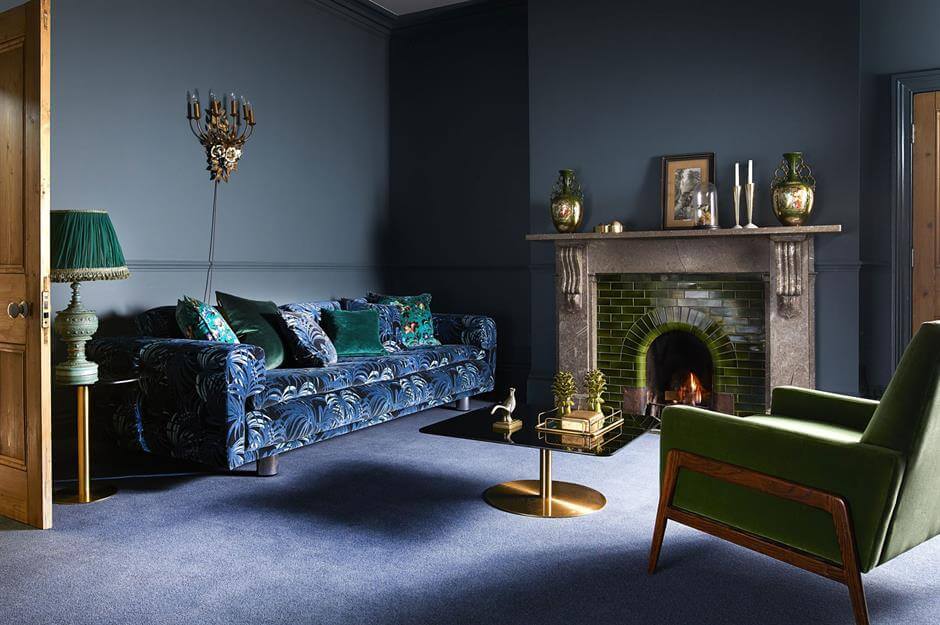 A rich orange is a beautiful & unexpected pop-up color that adds life to the slate blue color palette. There are so many colors that coordinate well with slate blue, but the rust gives an attractive look with it. Rust is one of the hottest colors of the season that tells a captivating & authentic story about style. It uses art & objects around your space to create a sense of contrast & movement against the grayish-blue backdrop.
4. Classic Blue and White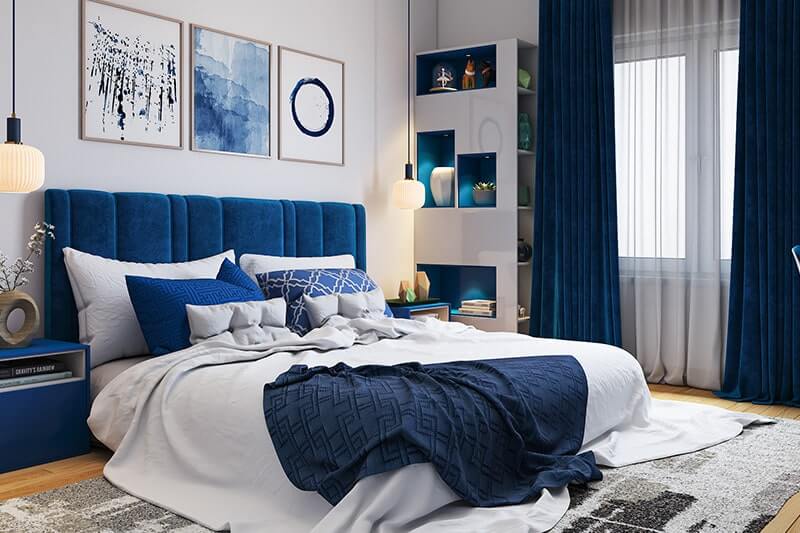 The Blue & white combination forms a crisp colo that provides a clean & calm feeling. This combination provides a fresh feeling. Different shades of blue & white define a pluralistic alliance that represents citizens as political & religious spectrums. A crisp color combination helps to create a fresh mind feel during the stormy year ahead.
5. Blue And Green -Perfect for Tranquil Office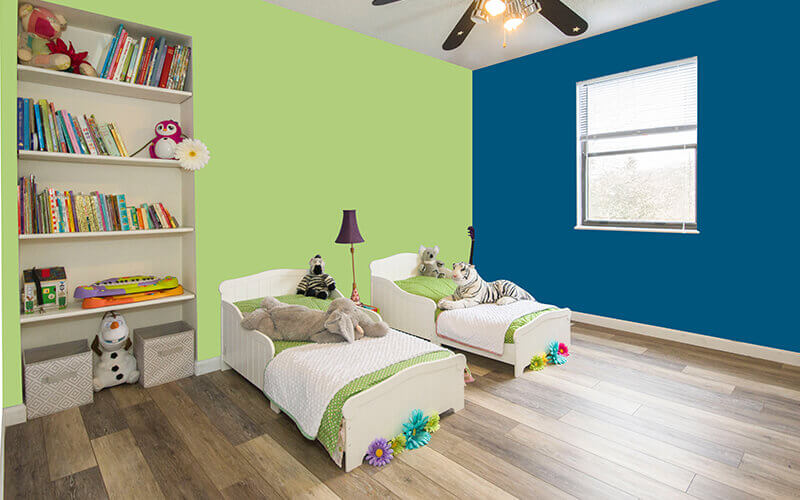 Different blue color schemes create a mood of tranquility, clarity & focus. Even it helps to achieve the person's strength & stability. Blue with green can create a soothing mood with feelings of balance & harmony. The green color is known for its inspiration, creativity & productivity in the workplace. It helps the office staff to think & speak clearly. The blue & green color combination is one of the best tones for an office interior.
6. Living Coral & Pacific Coast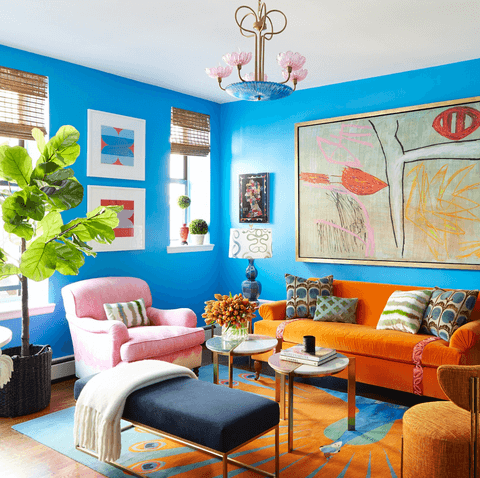 Living Coral is a lively & nourishing color that has a youthful flavor to it. On combining with refreshing blue, it represents the ocean floor with a vibrant seabed (filled with corals). These typical shades of blue serve a certain warmth & enhance the calmness.
7. Sapphire & Gold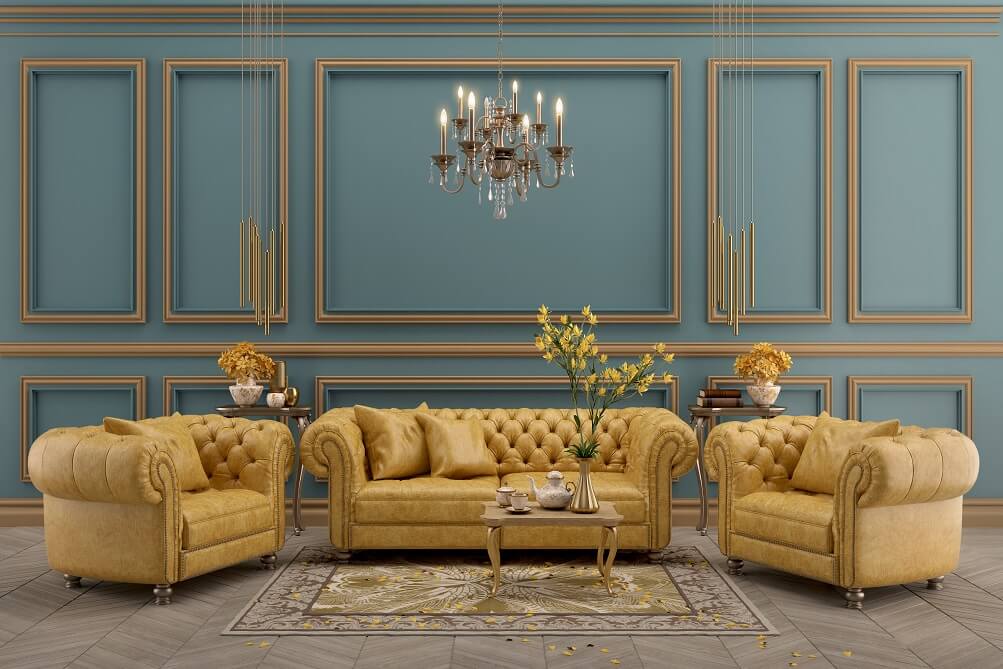 Sapphire is a shade of blue that gives a spacious look. The gold & sapphire color combination captures your eyes quickly & gives a dreamy look to your home interior. This color scheme is bright & cheerful that consistently high in popularity & offers a beautiful, durable & exclusive interior. It is one of the most attractive color combinations that make your home interior more beautiful.
8. Soft Blue & Neutrals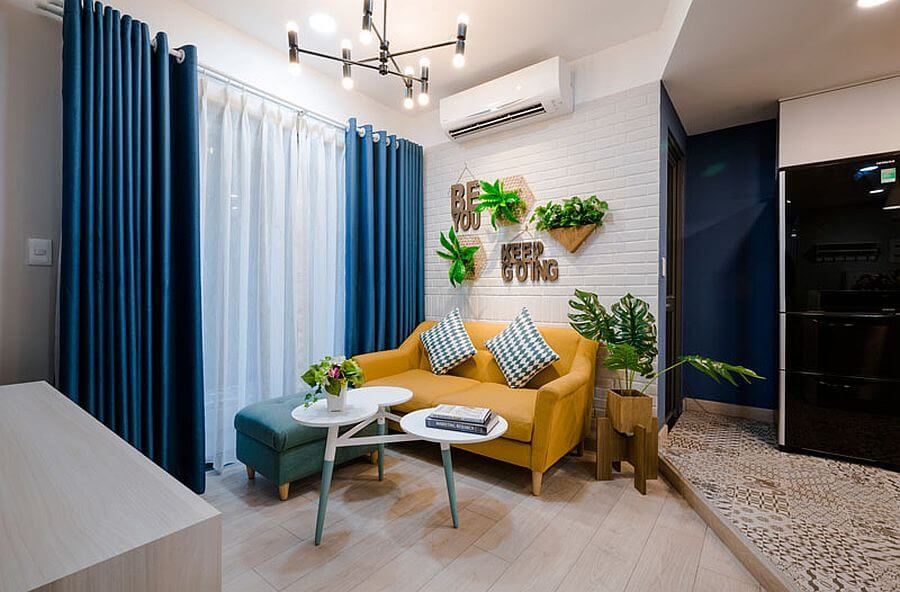 Some dose of blue in the neutral rooms enhances the layer of personality. You can use neutral paint colors & furnishings with some blue color accessories Like a table runner and decorative lamp. Moreover, you can choose this color combination to paint your room walls. In the context of interior design, neutral color means having no color. Neutrals like beige, ivory, taupe, black, gray & shades of white, appear to be without color. Sometimes soft blue color acting as a neutral. This color combination gives us a calming effect & smoothness.
9. Navy Blue & Cherry Red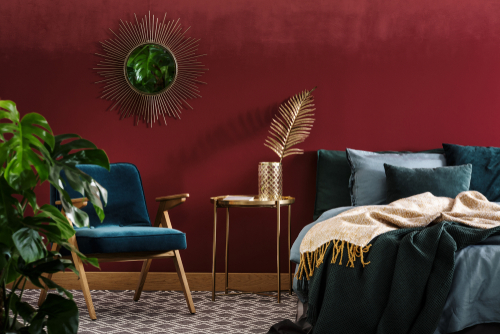 The Blue & red color combination forms an American pairing that provides a cheerful fireplace. You can also use a pair of crimson velvet chairs to pop against the navy patterned pillows. It helps to create patriotic country-style spaces & playful nautical-inspired kids' rooms. The vibrant cherry or scarlet accents provide a striking contrast against navy blue in modern or electric designs.
10. Turquoise & Orchid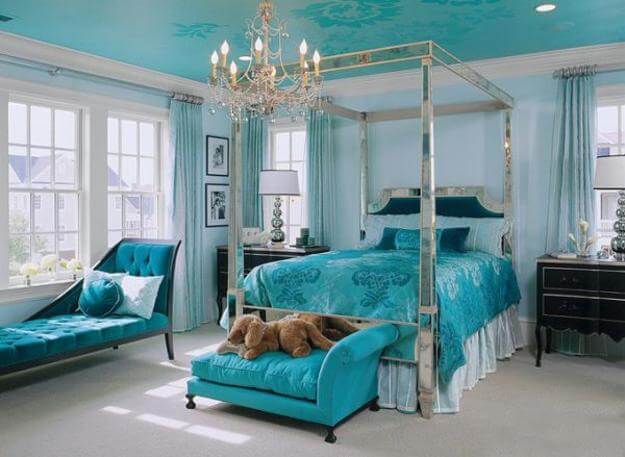 With a blue side, purple is another cool color that makes a pleasant companion. These two tones give a colorful & soothing look. Turquoise gives a jewel-like effect in the bedroom or living room. You can add saturated shades of purple to add contrast to your home interior. This orchid opposes indigo to counteract the coolness of blue.
What does the color blue symbolize at home?
The blue color scheme offers reliable, trustworthy & serene spirit surroundings. This color inspires the person towards its task. It develops you to work in an organized environment so that you can get the best out of yourself. Try to be determined towards your work traditionally as it, difficult for you to adapt to fresh changes. Try to get rigid from preferring and stick to knowns.
Benefits of color blue at home
Blue is the most common color, also recommended by the interior designers at the time of coloring home. It provides a sense of relaxation and peace. For a cool and relaxing environment, color your living room with a beach theme.
Water is a strong link for blue, so many of the designer color bathrooms with blue shades to make a cool and calming atmosphere and bedrooms too. So that one can retreat after a stress-filled day. Not only sky blue, but you can also even try Duck Egg Blue for bedrooms. Light blue shades like Sky blue are reflectors that make you feel a lot of space and rooms look larger. It is used on walls\ceilings of small rooms and window boundaries.
If you want to make your room warm with blue, try a combination of orange, red, and yellow. As we know, that combination of orange-blue is complementary. More energy can be felt with blue-orange and blue-red, but if you want a little warmer blue, try a combo of blue-yellow shades which has a warm/yellow undertone. There can be a combo of natural colors and textures such as sisal, wool, and wood, which not only enhance the look of the room.
Dark blues help in the recovery of such suffering as headaches, insomnia, or asthma, as you may feel good energy and thoughts too. It may only help them be more comfortable with their side. There is a small server that says dark blue helps to work at home offices or even students to study as it enhances learning, keeps your mind open to promote clear thinking.
Sometimes even the deep blue does work for the living/dining room as it changes the atmosphere and even that look does come from the surroundings. Bright blues may also work with furnishing, fabrics, and accessories. You can paint your front door blue if it's your favorite color rather than living/dining room.
Conclusion
For choosing a favorite color everyone, prefers blue. It can be a wonderful color for your home, there a. There is plenty of different blues to choose from, so here is how to choose the right one for you. Sometimes it is quite difficult to choose the right shade for your home & office interior. Thus browse our list of different blue color combinations to design your home interior. In this article, we have also discussed the importance & features of the blue color that provides complete mental relaxation.