What is the first thing you see when you go to a restaurant? Well, the answer is very simple, the first basic thing that you actually see is the space, you first check whether there is a place to sit or not. The second thing you will notice is the ambiance of the interior of the restaurant.
A greater speaker once said in this reference that, "One cannot think well, love well or sleep well if one has not dined well…"
So, the first and most important thing before making a restaurant is that your restaurant interior should be spacious. It should give a comforting and ambiance feel to the customers along with good food and good customer service. By taking all these in mind the foundation of a successful restaurant is built.
No matter how good your food is, people will leave if the ambiance of your restaurant is not good or attractive. Read this blog to get the best small restaurant interior design tips & plan ideas to give an artistic and magnificent look to your food court.
Best Small Restaurant Interior Design Tips & Plan Ideas
Entry To The Gate
The entry gate of your restaurant makes people think about how your restaurant will look from the inside. You can show people the theme of your restaurant from your doorstep, it will be very helpful for you to attract people to your restaurant.
The entrance of your restaurant should be such that people will be surprised to see it once.
Try to get some ideas. Plan everything before you build anything and then start your work so that you don't have to regret going ahead.
Choosing The Themes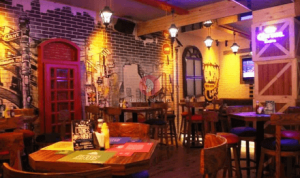 A nice and unique theme will make your restaurant very interesting. Choosing a theme is not a very difficult task. You have to think a little differently from other people and something that will catch people's attention.
You can also choose your theme according to the type of food you are serving. Let's say, your restaurant only serves Italian food so you can keep your theme Italian style.
If you have a lot of different games in your restaurant, you can keep them in the format of games. If you want to make your restaurant famous with music, you can make it a musical theme like hanging guitars on the walls, pictures of various popular singers, etc.
There are countless themes that you can choose for your restaurant however you want. They will help you to beautify the interior design of your restaurant and help you to give a modern and professional look to your restaurant.
Importance Of Colors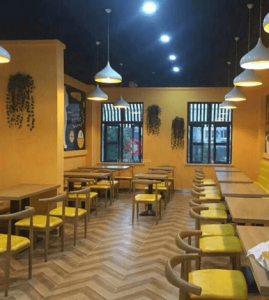 Colors will play an important role in making your restaurant look better. Painting is not an expensive job, you can attract your customers with your unique ideas that you can paint on your walls, and pay very little amount.
Do you guys know one thing why the logo and decorations of McDonald's, Domino's, KFC are in red color?
The answer is, because when a person sees red color in food, then his craving for food increases. Isn't this amazing?? A perfect combination of colors can help in giving a luxurious and stunning look to the interior of your restaurant.
So, you can see how color plays an important role in growing your business. But always remember one thing that the choice of color should be cool, unique. And yes, choosing a color is not a big deal. The deal is how you're going to use it.
Lighting to beautify restaurants interior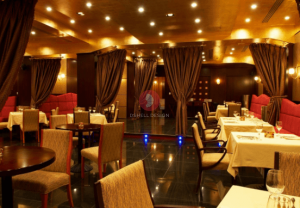 Lighting is a more important factor than many realize. In a restaurant, it becomes even more important because it gives a positive feel to the customers. The right lighting can improve the quality of furniture, hide imperfections and improve the overall dining experience of the customer.
The bright charming light can seek the attention of people with its warm welcome. Once they cross your stairs and come inside, the inner light also warms their mind and stomach.
Choosing the right lighting not only enhances the beauty of the furniture but also improves the atmosphere of that place.
Adjust Seating Capacity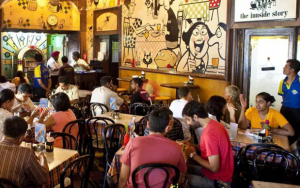 The most important restaurant interior design tip is how well you manage the seating capacity. If all you have is good food, a good theme but if you don't have a place to sit comfortably then all your hard work will go in vain.
All the people who come to your restaurant, you have to make them feel relaxed. Don't let anyone make you feel like your restaurant doesn't have enough space to seat them. This will make a very bad impression on your customers.
You have to pay attention to everything like the space between the table and the chair. If someone else is leaving, place their chair and table right after they leave. So that the people sitting there do not have trouble.
Involvement Of Music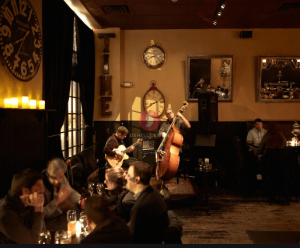 Music has an important effect on restaurant guests. Numerous studies have shown that background music not only makes customers happy but also improves the image of the restaurant and increases customers' cravings.
Rock music increases the craving and makes us chew faster. Classic music tells the stomach to eat food calmly and enjoy the atmosphere. If there are people who are pizza lovers, rock music actually increases order and helps the tables empty more quickly. In bigger restaurants, soft lyrical music gives the chef a thumbs up from customers even if the food is not so good.
There is a strong connection between music and food. 80 out of 100 people like having food and listening to music parallelly.
Restrooms Should Be Managed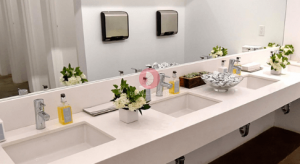 In addition to dining areas, bathrooms are the most important areas to consider when designing your restaurant. Do not consider this area as just a stall and sink, think of it as your impression on your customer. This is a room where you can reflect your restaurant personality, color scheme, and even your logo so that your customer does not lose the feelings for which you have worked so hard in the dining area.
The special attention that you should pay for designing your bathroom should also be for its maintenance and hygiene. The bathroom should be cleaned at least once an hour.
Remember, a dirty toilet reflects on the business overall and makes customers wonder about the hygiene of the areas they don't see.
Design Your Tableware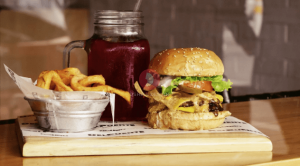 Tableware, such as silverware, plates, glasses, and napkins – leaves a big impression on the customers. Even if you serve the best food in the state, cheap silverware can give the impression that you are running a cheaper restaurant. Because of this, tableware should be considered part of your overall restaurant design.
If your customer is more formal, you can opt for heavy silverware or thick plates. If your customer is more relaxed, you can serve your food in baskets or paper plates.
Don't Forget HVAC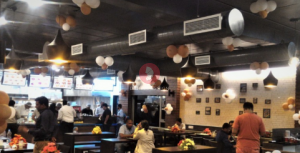 HVAC stands for heating, ventilation, and air conditioning. This is one of the most important decisions you face in your restaurant interior design. For example, commercial kitchens produce too much heat, aroma, and smoke. You do not want to put these by-products in the dining room where they can affect your customer experience. Proper ventilation can ensure that this will not happen.
Similarly, you have to take care of both the high and low temperatures outside your building as well as the body heat of the people inside. On a really hot day, can your air conditioning keep your customers cool, or will your restaurant quickly become a sauna?
So, you should always ensure that proper ventilation is going on and none of your customers is facing a problem.
Customer Service
Customer service is important to every restaurant, perhaps as important as the food itself. Customer demand from a restaurant doesn't just stop at the speed of service, but also extends to the way the waiters greet them, talk to them, address their complaints, and even serve the food.
A well-behaved waiter changes the mindset of customers about the smallest mistake of your restaurant and creates a positive image of your restaurant.
The tip given by the customer is not just a tip, it reflects the customer's happiness and also represents your services. Based on customer feedback, you can improve your services and business day by day and that is very useful for your restaurant.
Wind-Up
Designing a small restaurant can actually be a challenge, but it is definitely worth undertaking.
Use your design and decor and give the best furniture, table coverings, silverware, glassware, and wall decor to your restaurant to create a mood for your customers. Create a place in which you want to dine, and you can bet that you will attract new and returning customers.
It will be a place that people remember and will come back again and again.
We do really hope that after following these small restaurant interior design tips, you can also give a personal touch to your restaurant. If you still have any doubt then you can contact our support team. They all are experts in this field and are always ready to help you. For more information contact at our toll-free no – 1800-121-997777.